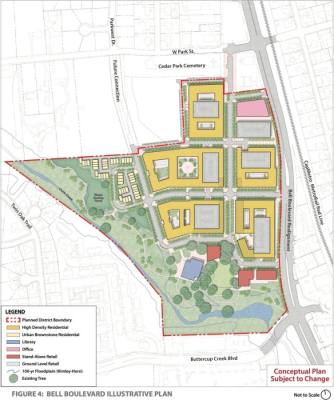 The Bell Boulevard Redevelopment Project, an estimated $350 million project in Cedar Park, "remains on schedule" with its precursory road realignment project, according to the city.
Road realignment construction began with utility relocation in January. The realignment project is scheduled to begin in summer and finish by fall 2020, according to city spokesperson Jennie Huerta. The project relocates part of Bell between Buttercup Creek Boulevard and Cedar Park Drive to the alignment of Old US 183.
The road realignment is critical for the redevelopment project's timeline. Master Developer RedLeaf Properties' initial planning is slated to begin in 2021.
There are no coronavirus-related delays or budget effects, according to Huerta.
The Bell Boulevard Redevelopment project will transform a section of southern Bell into a 50-acre mixed-use, pedestrian-friendly neighborhood. The mixed-use district will include residential, commercial and civic areas within 50 acres of city-owned land. A new library and about 16 acres of dedicated parkland are planned.